2009 ADNG National Conference
The Australian Physiotherapy Association's 2009 Acupuncture and Dry Needling Group Conference was held at Darling Harbour in Sydney in October. The conference consisted of the latest in scientific research and clinical practice and covered all of the various needling disciplines, including Dry Needling, Western Segmental Acupuncture and Traditional Acupuncture. Presenters came from all around the globe including the US, England and New Zealand with the two main keynote presenters, Assoc Prof Helene Langevin and Dr Jay Shah both from North America.
Associate Professor Helene Langevin presented on the dynamic cellular response to manipulation of the connective tissue architecture via acupuncture needle stimulation. Whilst Dr Jay Shah presented his ground-breaking research on the muscular chemical milieu of trigger points and the response to dry needling.  Other keynote speakers included, Mr Christopher Zaslawski who presented research on the impact of site specificity and needle stimulation on pain pressure thresholds following manual acupuncture and Dr Mark Strudwick who presented up to date research on the effect of acupuncture on the autonomic and central nervous system, including functional MRI analysis. The 2-day conference also consisted of presentations by leading Australian lecturers, including Leigh McCutcheon, Dr Peter Selvaratnam and Paula Raymond-Yacoub.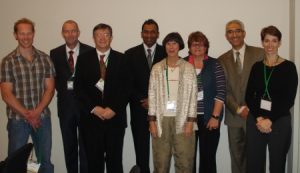 Leigh McCutcheon's presentations included an opening address which reviewed the latest research in acupuncture and dry needling, the use of acupuncture and dry needling for treating triathletes and western acupuncture and dry needling in spinal regions.
See below for Leigh's abstracts:
https://combinedhealth.com.au/dryneedling/wp-content/uploads/2018/02/Combined-Health-Logo-190x300.jpg
0
0
webandprint
https://combinedhealth.com.au/dryneedling/wp-content/uploads/2018/02/Combined-Health-Logo-190x300.jpg
webandprint
2009-10-30 08:08:40
2021-01-08 11:59:46
2009 ADNG National Conference