Western Acupuncture and Dry Needling Course Presenters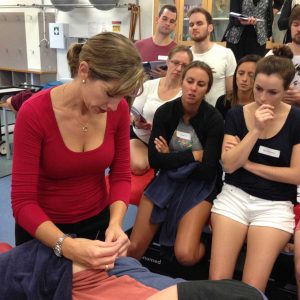 Ms Leigh McCutcheon lectures for Combined Health in Australia. She has been in practice since 1991 after graduating from Sydney University. Leigh moved to the Gold Coast in 1992 and later established the Robina Physiotherapy Clinic in late 1993 and the Elanora Physiotherapy Clinic in 1995. In 1999 Leigh completed a years study to gain her Graduate Certificate in Orthopaedic Manipulative Therapy and then went onto complete studies at AUT to graduate as a manipulative therapist receiving first class Honours in the Master of Musculoskeletal Physiotherapy program and is a member of the Australian College of Physiotherapists.
Leigh also completed a Post Graduate Diploma in Western Acupuncture at AUT. She lectures to physiotherapists and other registered health practitioners on acupuncture and dry needling for the musculoskeletal system at various venues around Australia and at Bond University on the Gold Coast. Leigh has held multiple office bearer positions on the APA Acupuncture and Dry Needling group (ADNG) including chairperson and is the ADNG representative on the APA Risk Management committee.
In 2010 Leigh secured a two year Research Fellowship with the Griffith University Medical School to research the effect of acupuncture and dry needling on Whipash Associative Disorder and has presented the research at several medical conferences.
Leigh was also on the panel of physiotherapists that developed the Acupuncture and Dry Needling Safety Guidelines that are distributed via the Australian Society of Acupuncture Physiotherapists and has headed up the last two 5 year revisions of the safety guidelines. Leigh McCutcheon is an authority on safe needling in and around the thoracic region and is internationally published in this area. Leigh also supplies expert opinion for medicolegal cases and to the relevant governing bodies.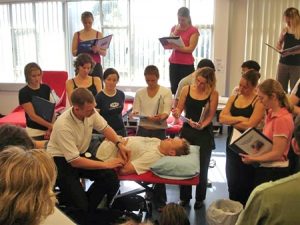 Mr Trevor Montgomery lectures for Combined Health in New Zealand. He graduated with a Bachelor of Health Science (Physiotherapy) degree from AUT University. Trevor co-owned a large physiotherapy practice for 8 years before establishing Golf Works Ltd – a specialised physiotherapy practice for golfers. Trevor has been working with elite golfers since 1998, providing services to the New Zealand National Titleist Squads, top amateurs and overseas touring professionals on the US, European and Australian PGA Tours.
With a post-graduate certificate in Western Acupuncture, Trevor has been utilising dry needling and western acupuncture in practice for over a decade. Trevor lectures to physiotherapists on acupuncture and dry needling of the musculoskeletal system with Leigh McCutcheon at various venues around Australia. In 2004 Trevor completed a post-graduate diploma in Manipulative Physiotherapy and completed his Masters of Health Science in 2007 graduating with first class Honours.
Trevor lectures on Acupuncture and Dry Needling for the postgraduate program at AUT. Over the past eight years Trevor has also held various office bearer positions for the Auckland branch of Sports Medicine NZ. His additional interests include treating chronic musculoskeletal conditions, golf biomechanics, motor learning and sensori-motor integration training.